The Small Business Banking Data Report
Understanding Trends and Threats Impacting Your Financial Institution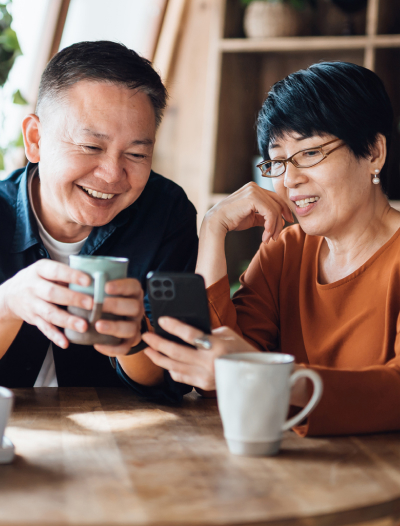 Nearly 85% of small business owners believe that investing in the right technologies will help them prepare for the future.
This opportunity has not been lost on third-party app providers, as they continue to target small businesses with workflow-related tools designed to improve cashflow and efficiency while working to disintermediate the financial institution from the business customer.
In 2022, the number of small businesses (SMBs) in the U.S. surpassed 33 million, making up almost all (99.9%) businesses in the country. This is a 2.2% increase from the previous year, despite an economy currently undergoing challenging conditions.
Clearly, SMB owners are a resilient lot, and for the most part, continue to be optimistic about the future. Nevertheless, cracks are beginning to show: 53% of business owners are most concerned with reducing costs and fighting inflation.
As a result, 63% of SMBs are looking to invest in technology, and almost half are looking for ways to improve the customer experience. What do these emerging trends mean for financial institutions looking to deepen existing relationships, even as they court new businesses?
An Unprecedented Opportunity in Small Business Banking
If anything, the continued growth of new businesses — along with their need for new technology and improvements to the customer experience — have sparked an extraordinary opportunity for those financial institutions that are willing to deliver on these workflow-related products and services while re-engaging with a historically underserved market segment.
Prior to the pandemic, the small business market category represented a $370 billion opportunity for financial institutions. As we enter 2023, this number will likely surpass the $400 billion mark.
This opportunity has not been lost on third-party app providers, as they continue to target SMBs desperate to find new efficiencies and ways to cut costs while continuing to attract new customers. For the most part, small businesses have been receptive to their offerings.
A Growing Reliance on Third Parties When It Comes to Banking
According to the same study, SMBs are taking a "more expansive view of banking." It's no secret that most small businesses, especially those with 20 or more employees, typically rely on more than one financial institution to support their digital banking needs. However, a growing number of owners responded that they would consider using "non-bank entities" to support future digital banking needs.
Of the SMBs surveyed, almost half said their digital banking providers include PayPal; and a similar number rely on online banks, such as Discover and American Express, or nonbanks like Chime. On top of that, 30% reported that they already partner with Square.
Just as significantly, those that currently rely on community and regional banks for the best digital payments for small businesses are weighing the possibility of turning to third-party platforms: more than half of respondents said they would consider using an online bank or PayPal.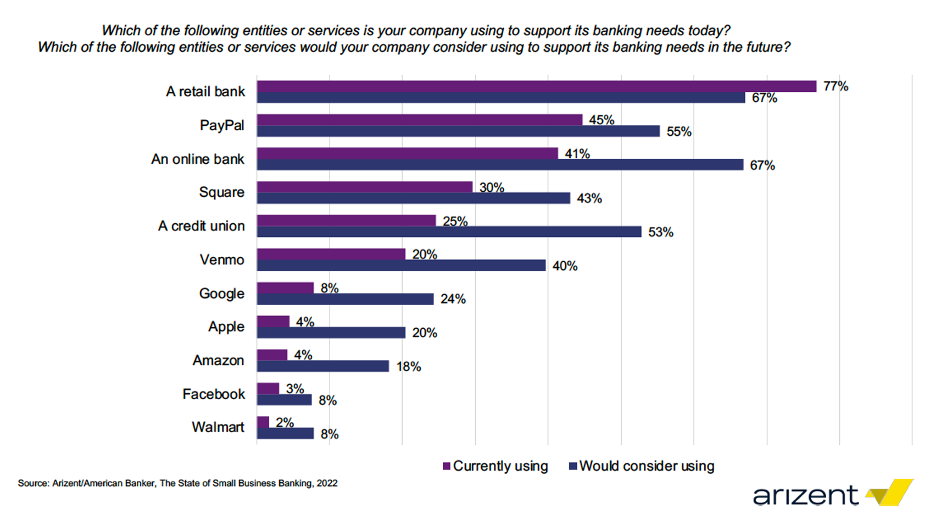 A Look at Autobooks' Transactional Data
Based on data found in the Small Business Data Report, a new resource authored by Autobooks and sponsored by Jack Henry™, it's become clear that third-party app providers are succeeding. More specifically, a growing number of existing business customers are relying on third-party apps for their payment acceptance needs.
Why is this important? As we learned in a recent Arizent study, SMBs are prioritizing technology and the consumer experience. Significantly, both areas are deeply impacted by digital invoicing and payment acceptance solutions. These digital-first products also touch on innovation, data, and analytics needs, albeit to a lesser extent.
Based on a pool of 113 financial institutions with a total of 529,106 business accounts (over a seven-month window), Autobooks identified almost 45,000 customer accounts connected to the three most popular third-party payment acceptance apps: PayPal, Square, and Venmo. Combined, these customers deposited over $850 million at their financial institutions — all coming from these third-party competitors.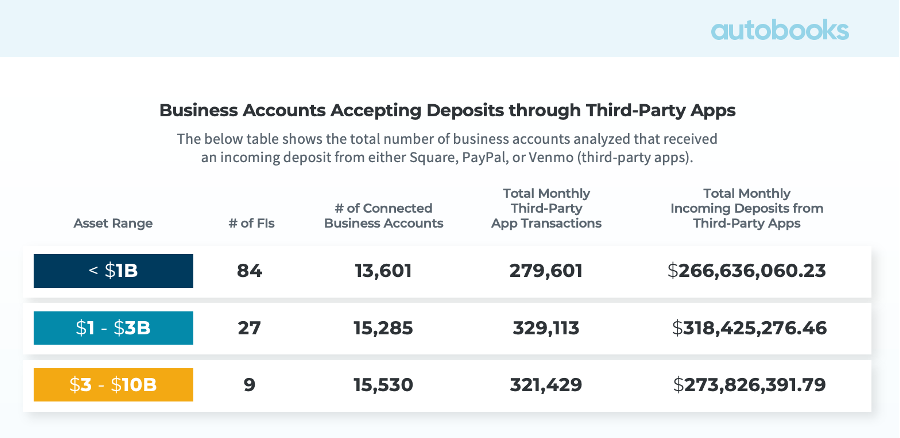 A Closer Look at the Three Main Competitors
Although there are many ways to approach the competitor data, and just as many insights to be gleaned, there are two important takeaways worth mentioning.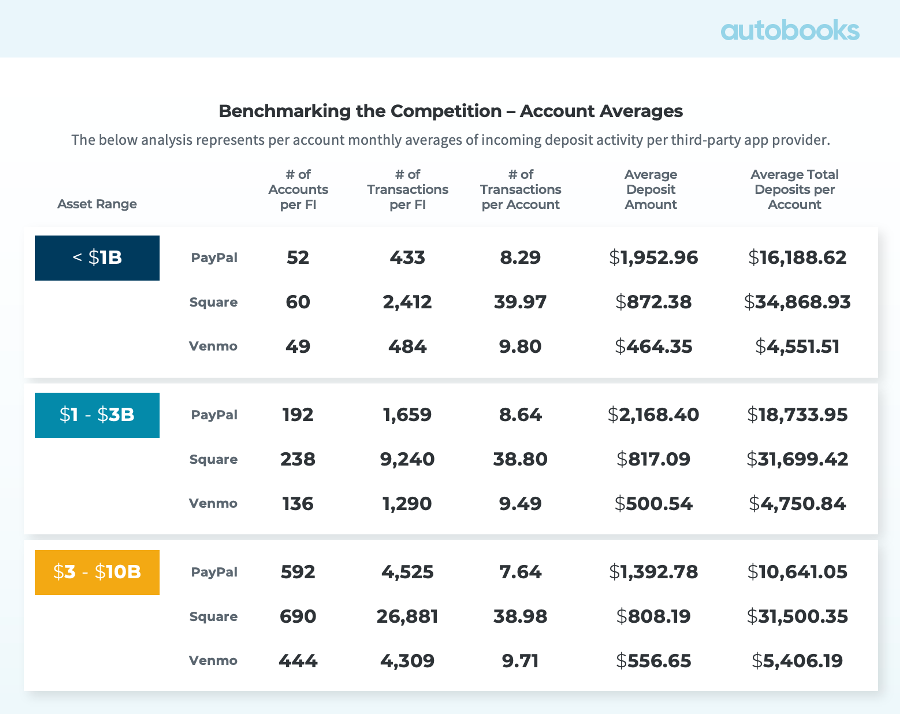 Firstly, Square leads all third parties when it comes to the total number of transactions, per business. This trend holds up, no matter the asset size of the financial institution. These numbers point to the popularity of the solution, and the fact that Square has become a de-facto tool when it comes to digital invoicing and card payment acceptance.
Secondly, PayPal users trail Square when it comes to the total number of transactions. However, their average deposit amounts are significantly higher than those of Square or Venmo users, no matter the asset size of the institution. Not only do these higher amounts reflect the fact that PayPal users have a clear need to accept digital payments from customers, but also that these businesses are likely providing higher ticket, one-off services that are ideal for digital-first invoicing and card-not-present solutions.
With Any Challenge, There's an Opportunity
At first blush, these deposits may be seen as a win for those financial institutions, regardless of accountholder behavior. A deposit is a deposit, after all! But digging deeper, these transactions also point to several underlying challenges.
It's clear that business customers are turning to third-party payment acceptance apps to get paid. But what may not be so obvious is that payment acceptance acts much like direct deposit, in that it allows a financial institution or alternative provider to establish trust and build longer-term relationships.
These savvy competitors understand this fact, and leverage payment acceptance as the tip of the spear to penetrate small business relationships. To further unseat the incumbent financial institution — and establish primacy with small business owners — many of these providers have tied in new integrated financial products that are designed to keep users working inside their digital ecosystems.
Just as importantly, financial institutions are losing out on opportunities to generate non-interest fee income. When a small business owner gets paid through their payment acceptance app, the third-party provider gets paid as well.
---
Want to learn more about the small business banking opportunity?
Download our Small Business Data Report, compiled by Autobooks and sponsored by Jack Henry, to see more of the transactional data and get a fuller picture of the threats and opportunities in small business banking. In addition, you'll find out how your financial institution is uniquely positioned to re-establish primacy in a fierce market with the right digital tools and support.